– November 19, 2023
American Snuff Company Issues Voluntary Recall of Kodiak Premium Wintergreen Longcut Tobacco Due to Possible Health Risk
November 19, 2023 – American Snuff Company (ASC) is voluntarily recalling certain lots of Kodiak Premium Wintergreen Longcut Tobacco manufactured at ASC's facility in Clarksville, TN, and distributed in Alabama, Florida, Georgia, Iowa, Illinois, Indiana, Kentucky, Michigan, Minnesota, North Carolina, New York, Ohio, Pennsylvania, South Carolina, Tennessee, Virginia, Wisconsin, and West Virginia. ASC has notified the U.S. Food and Drug Administration of the voluntary recall and is working with the Agency on this matter.
ASC initiated the recall of Kodiak Premium Wintergreen Longcut Tobacco after having identified the potential for certain lots of the product to contain foreign metal objects which may or may not be visible to the consumer. The recall was as the result of identifying an issue with manufacturing equipment during routine inspection that caused metal-to-metal abrasion; this abrasion could have caused metal shavings to come into contact with tobacco during the manufacturing process. To date, there have been no products identified as containing these foreign objects, no consumer complaints, or reports of consumer injury received.
None of ASC's other products are affected, including its other styles of Kodiak, Grizzly, Hawken, and Cougar smokeless tobacco products, and all of its loose leaf, twist, dry snuff, and plug products.
ASC has instructed wholesalers and retailers to segregate the recalled Kodiak Premium Wintergreen Longcut Tobacco from their inventories. ASC's sales representatives are assisting wholesalers and retailers in returning the product.
A consumer who has any of the Kodiak Premium Wintergreen Longcut Tobacco product listed in the table below should not open or use the product. Consumers should contact ASC at 1-866-843-0636 to return the product for a refund, report any adverse events, or submit a complaint.
The select cans subject to this recall have the following identifying information printed on the bottom of the cans.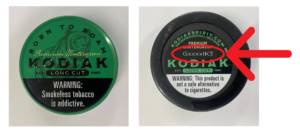 The key characters to identify potentially affected product are in upper case and highlighted in red.  The x characters in lower case in the can code are not relevant to identifying potentially affected product.
| | |
| --- | --- |
| GxxxxIK3 | GxxBxJK3 |
| GxxAxJK3 | GxxCxJK3 |
If the characters in the Code printed on the bottom of the can match any of the Codes above, the product is considered potentially affected. 
 If the characters in the Code printed on the bottom of the can do NOT match the Codes above, this product is not affected.